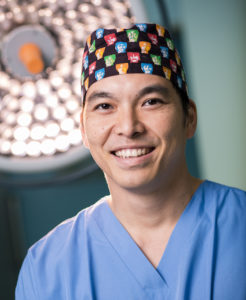 Dr Evan Woo is a certified plastic surgeon accredited by the Ministry of Health, and specialises in breast cancer surgery and reconstruction.
He was inspired to train in plastic surgery early in medical school, after seeing how plastic surgeons stood apart from those in other fields. Unlike other surgical disciplines, training for plastic surgery equips surgeons with the skills to solve complex problems delicately and elegantly.
The training has honed his ability to make detailed analyses, plan his surgical solutions meticulously and execute them with precision.
He believes that his innovative and effective surgical solutions benefit breast cancer patients.
Dr Woo started with broad-based training in plastic surgery, covering all aspects of reconstruction work, wound and scar management, and aesthetic surgery. His passion for breast cancer surgery led him to further his training at the renowned Nottingham Breast Institute on a Health Manpower Development Programme scholarship. It is one of the top tertiary referral centres for breast cancer in Europe, and the leading institute for oncoplastic breast surgery.
Currently, he is one of only a handful of surgeons in Singapore able to offer the full range of options for breast cancer patients; covering lumpectomy, breast conservation surgery and oncoplastic breast surgery. 
Breast reconstruction is seamlessly woven into the tumour removal plan. He offers the complete suite of solutions –  including the use of perforator flap-free tissue transfer – for women who have had single or double mastectomies, or breast conservation surgery.
Dr Woo's practice encompasses every aspect of care for breast cancer patients before and after surgery.
Patients can opt for laser treatment to lighten scars post surgery. He is regarded as an opinion leader by several notable laser manufacturers, and believes that women should not have to live with unsightly post surgical scars. He also works closely with leading lymphoedema specialists here, and performs surgery such as lymphatico-venous anastomsis and vascularized lymph node transfers.
His aim is always for women to look the same or better after he has removed the breast cancer tumours.
Aside from breast cancer surgery, Dr Woo has extensive experience in breast enhancement work, including augmentation, lifts, reductions and rejuvenation.
Apart from running a thriving private practice, he carves out time to be a visiting consultant at KK Women's and Children's Hospital. There, he is actively involved in research and imparts his skills to new generations of surgeons by teaching them the cutting edge surgery he does in his private practice. He is an active member of the hospital's Breast Cancer Multidisciplinary Tumour Board, and his work is regularly validated by other surgeons and specialists involved in breast cancer care. He is also a tutor at Duke-NUS Graduate Medical School, where he is Adjunct Assistant Professor.
Dr Woo is the founder and immediate past president of Breast Reconstruction Awareness Singapore (BRAS), a non-profit society that aims to educate Singaporeans about breast reconstruction.
His practice, his passion for teaching and his research work are geared towards one goal – to make women whole again after breast cancer.